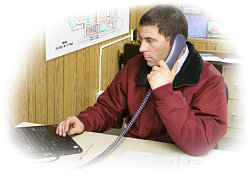 The team effort has energized our
company. Knowing we worked this
process in a team atmosphere
generated considerable camaraderie
and an attitude of "if we can do this,
we can attack anything." A nor'easter,
and blizzard or an unscrupulous
contractor targeting our customers
can all be successfully addressed.
We addressed these issues before,
but now we will do it knowing we are
a better educated team.
Michael Weiss, ASCA-C
President
Weiss Commercial Property Services

2012 marks another year of giving back
for Weiss CPS. "We can go on about
how tough we may have it, battling
frigid, snowy weather to keep a parking
lot safe, putting long days in to meet
client property service expectations,"
says Michael Weiss, president of Weiss
CPS, "but at this time of year, we
always look back and are thankful for
the great crew we have and the health
and well-being of our loved ones. And of
course, loyal and faithful clients we
continue to be blessed with. Rather
than wait to act on those feelings, we
decided a while ago that giving back
throughout the year to charities is the
way to go, as they need help year
round, not just at the end of the year."
Charities helped by Weiss look forward
to this kind of support.
"For the second year, Weiss has been a
Supporting Sponsor, again providing
thousands of dollars to help make the
North Shore Cancer Walk possible,"
states Rose Fisher, Director of Events
and Annual Giving. "The support Weiss
gives enhances the care, support and
programs that are provided by the Mass
General / North Shore Medical Center
to thousands of our friends and family
each year."
Frederica Doeringer, Executive Director
of the Eastern Massachusetts Chapter
of the Red Cross says that "with all of
the disasters in other parts of the
country and world, we are so grateful
that Weiss CPS and other donators
recognize the importance of giving
locally to reach out to those in our own
communities who will not have to face
disaster alone."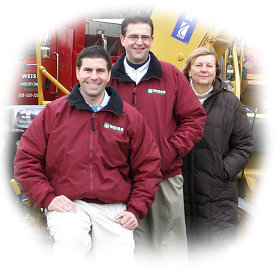 Marc Kemp of Basser-Kaufman Real
Estate Investors and Developers heads
up the Sweethearts Golf Tournament
that raises money for diabetes research.
"We need the help that Weiss and others
provide to help find a cure for diabetes
because insulin is not a cure! The longer
diabetics are kept alive on insulin, the
greater the chance of serious long-term
complications, such as heart and
vascular disease, strokes and kidney
disease. Everything that Weiss
contributed went to the Diabetes
Research Institute. We look forward to
their continued support."
Susan Paresky, Senior VP of the Boston
Marathon Jimmy Fund Walk at the
Dana-Farber Cancer Institute is
"honored to partner with Weiss CPS and
others that continue to advance Dana-
Farber's lifesaving mission. Their
support of these efforts provides
inspiration and motivation, and
exemplifies the extraordinary power that
comes from a community that shares a
common goal - conquering cancer."

Snow, Ice, Landscape
&
Parking Lot Maintenance Management for the Greater Boston Area
&
Beyond
(978) 535-7200 27 Farm Avenue, Peabody, MA 01960 ©2015 Weiss Commercial Property Services. All rights reserved.








Weiss CPS President's Editorial
"Why Certification Matters" Published by
Accredited Snow Contractors Association


Electronic Newsletter from the Leading Landscape & Snow & Ice Management Company Serving Greater Boston & North Shore